SIGNS THAT YOUR KITCHEN NEEDS A RESPRAY
If you're like most homeowners, then you may have understood the feeling of holding off renovations for as long as you possibly can. Most of us back off with just the thought of having a kitchen renovation, thinking how expensive it will be. Fortunately, a simple kitchen renovation doesn't have to be as expensive as most think it will be. One of the best ways to reduce the expenses during a renovation is by having an affordable kitchen respray service! A simple change of colour can go a long way in revamping any kitchen. With Kitchen Respray, you get to have a major kitchen makeover for a fraction of the cost of a full kitchen renovation. If you've been holding off that long-awaited kitchen renovation but can't afford to spend too much, then our affordable kitchen renovating solutions is precisely what you need. If you can't decide yet whether your kitchen is overdue for a makeover, here are just some of the of the few signs to look out for to determine a kitchen respray renovation is all that your kitchen needs:
Your Kitchen feels old and looks shabby.
Outdated kitchen appliances together with old furniture will really make any kitchen feel and look old. If your kitchen hasn't been updated for a few years now, it's time to revamp your kitchen by changing a few minor appliances and most especially painting your kitchen and adding a pop of bright colours here or there.
You're bored with that same old style.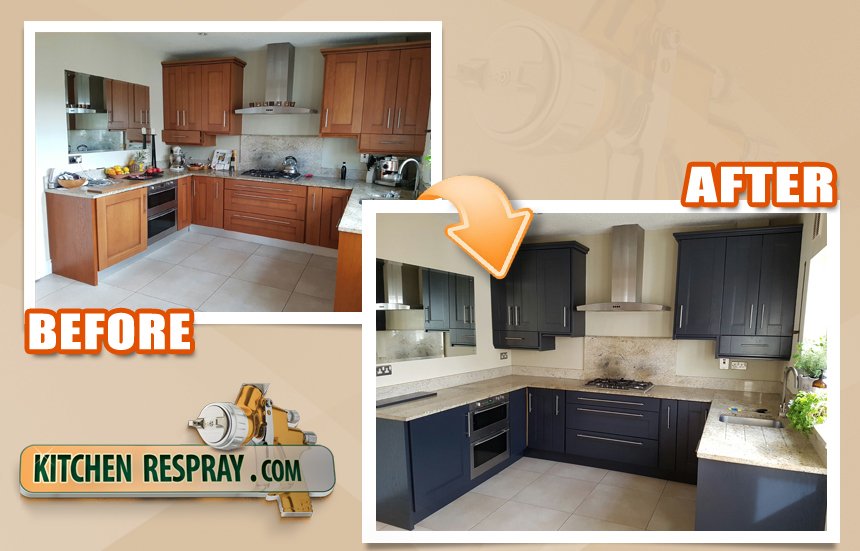 Ever walked into your kitchen and felt tired and unenthusiastic? This is a sign that you are getting bored with your kitchen's same old look. It's time to take your kitchen renovation to the next level by exploring other styles and changing the colour theme of your kitchen. Tired looking at your dark-coloured cabinets? Why not opt for a light coloured kitchen to add more vitality to your kitchen. Nothing that a professional kitchen respray can't do!
Your kitchen looks dirty.
When it comes to light coloured kitchens and white cabinets, furniture like these experience the most abuse as time goes by. When the cleaning becomes too hard to sustain, this may be one of the best signs that it's time to let your kitchen have the renovation it deserves. Those annoying and stubborn stains on your countertops and cabinets that you just can't get rid of, are enough reasons to paint your kitchen new.
You can't risk to DIY your kitchen
Worried that you'll ruin your kitchen if you suddenly decide to paint it yourself? No worries! Our kitchen respray services are all that you need. Just feel free to communicate with us what you need and want for your kitchen to look like and we'll work on giving your kitchen that desired look! With our affordable renovation solution, you get to have a major makeover for the fraction of the cost of a full renovation!
If you're looking for a professional Kitchen Respray service in Dublin, don't hesitate to contact us.

Philip Mckinney owns and operates one of the largest and most successful kitchen respray companies in the industry. He essentially coined the term "kitchen Respray" when he purchased the domain kitchenrespray.com in 2010.  He has developed most of the "best practices" and industry standards in the Respray sector. Philip has written hundreds of articles on every aspect of the business and processes including the wider scope of the respray business in general like PVC respray, Bath respray, furniture respray, worktop respray, and repair.