Spend Less and Be Happy – Bath Resurfacing
What is meant by bath resurfacing?
As a home owner, you will want every part of your home to look good.  Due to prolonged use, it is natural to get some wear and tear in  the kitchen, furniture, bath rooms, etc.   With regular use, your bathtubs, shower trays, and sinks are bound to lose their original sheen and develop some cracks too.  An unsightly bathtub or shower tray can spoil the very idea of a leisurely, refreshing bath.  The process of sealing the cracks, repairing minor defects and reglazing these bath accessories is called bath resurfacing.
Isn't replacing the old and worn-out bath accessories a better option?
Certainly not and we will tell you why.  Although it is not a bad idea to replace old and damaged bathtubs, sinks or shower trays with new ones, you are going to incur huge expenses in the process.  Whereas, bath resurfacing will save you a lot of money – you will be spending less than 25% of the cost of new accessories.  When you can save so much and have your bathtubs or shower trays look as good as new by resurfacing them, it would not be a wise decision to buy new fixtures to replace old ones.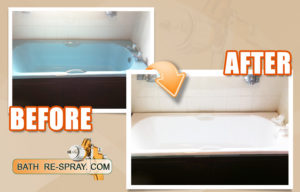 How is bath resurfacing done?
We use a special kind of reglazing agent called Multinamel, which is known for its durability and amazing results.  We have exclusive rights to this product and extend a lifetime colour warranty as well as a five year structural warranty.  This product covers the flaws in your bathtubs, sinks or shower trays so well that you begin to wonder if the cracks did exist in the first place at all.  We are the only company in Ireland to have earned BS 7976-2 for this product. 
How do I contact your company?
See our site All Surface Respray.com
We have been in this business for over 15 years and have done bath resurfacing work for thousands of our customers.  Multinamel has been received very well by commercial businesses, where the number of users is far more than in any household.  As a homeowner, you are going to find this product more effective and long-lasting.  Multinamel is the best of its kind in the market presently and you will agree that your baths deserve the best treatment that will last for years.  Call us right away at 0862456456 for an appointment.  We shall be glad to conduct a free survey of your site and offer our quote. or email us for a quote.

Philip Mckinney owns and operates one of the largest and most successful kitchen respray companies in the industry. He essentially coined the term "kitchen Respray" when he purchased the domain kitchenrespray.com in 2010.  He has developed most of the "best practices" and industry standards in the Respray sector. Philip has written hundreds of articles on every aspect of the business and processes including the wider scope of the respray business in general like PVC respray, Bath respray, furniture respray, worktop respray, and repair.